Borrow a Laptop Kit to access the Internet at home!
Thousand Oaks Library is offering Laptop Kits to adults (18+) to check out for in-home use.
All devices must be returned by the date due.


DO NOT RETURN MOBILE DEVICES IN A BOOK DROP
Each Laptop Kit contains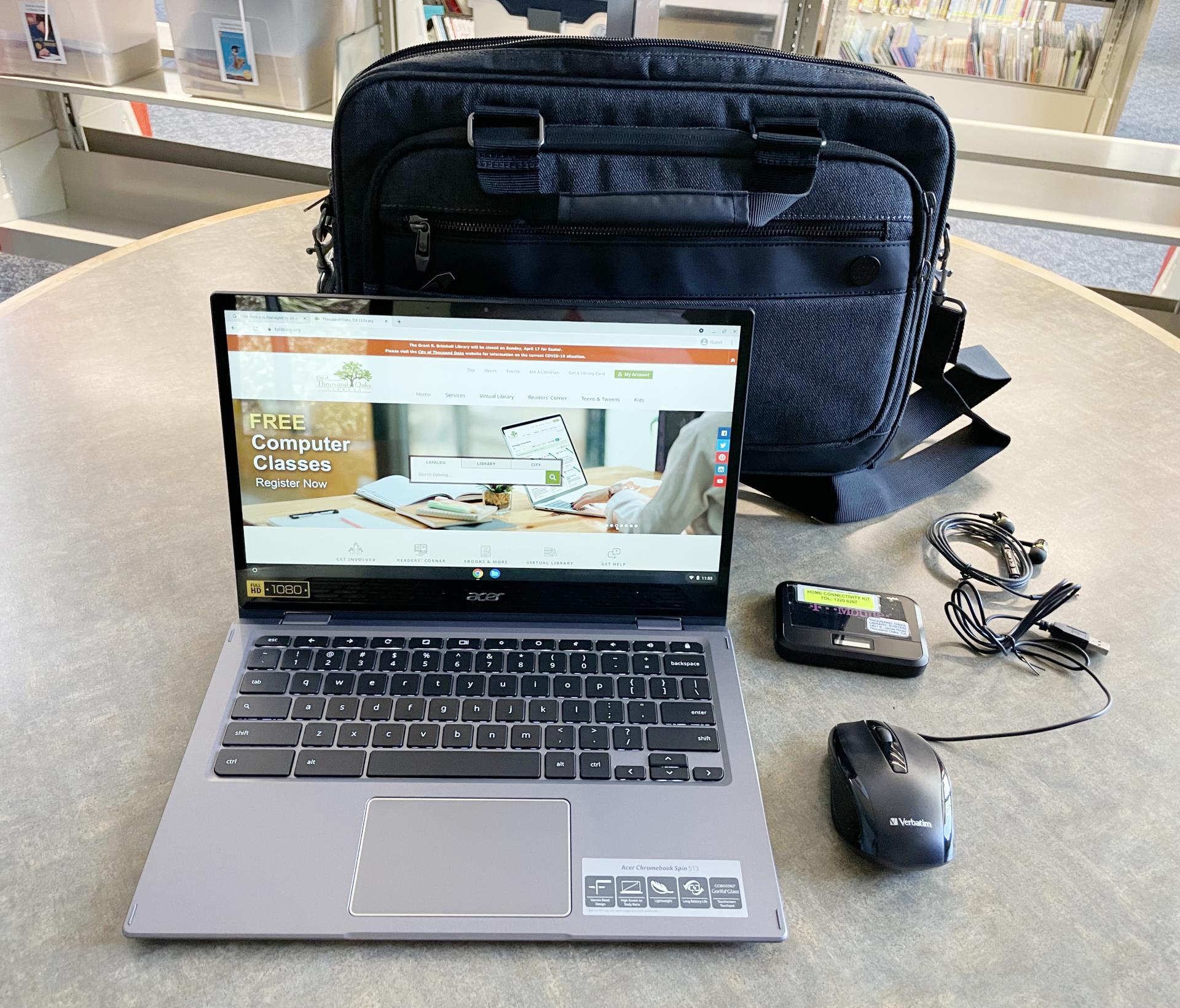 One (1) Chromebook with a power cord and adapter
One (1) WIFI Hotspot with a USB charging cable and power adapter
One (1) canvas laptop bag
One (1) wired mouse
Complimentary earphone (available upon request)
How it Works:
Step 1: Review the Laptop Kit User Agreement.
Step 2: Check the catalog for availability, or place a hold on a laptop kit.
Step 3: Wait for the hold pick up notice, arrive at the pick up location with your library card.
Step 4: Sign the User Agreement at the Circulation Desk and check all items are present and in working condition.
Borrowing Guidelines
Laptop Kits may only be checked out by an adult (18+)
One Laptop Kit may be checked out per user at one time.
Laptop Kit may be checked out for four (4) weeks with NO RENEWAL.
Users must adhere to the Library's Internet Use Policy, as well as all applicable local, state, or federal laws.
Four (4) days after the due date, the laptop will be locked and hotspot will be deactivated.
Devices must be checked out at and returned to the Circulation Desk during open library hours.
Users are responsible for lost, stolen, or damaged devices for up to $911 plus $3 processing fee:

a. Chromebook - $778
b. Mouse - $8
c. Hotspots - $80
d. Laptop case - $45

Getting Started Guide
Topics include:
Chromebook Laptop Initial Setup and Mobile Hotspot Guide
Managing Chromebook languages
Find, Open and Save files to Google Drive or USB/removable drive
Open and Edit Microsoft Office files on your Chromebook
Converting Microsoft Word documents to Google Docs
Use Zoom on Chromebook
Download English Guide
Download Spanish Guide
Additional Resources
To help us improve, please fill out the Laptop Kit Survey.