Library eResources
Available through the Library's Website
The California State Library offers several learning platforms for career enhancement, job skills training, digital literacy, and life-long learning. Learn online from Coursera, GetSetUp, LearningExpress Library Complete, LinkedIn Learning, NorthStar Digital Literacy, and Skillshare.
This resource is supported in whole or in part by funding provided by the State of California, administered by the California State Library. (Library patrons do not need a library card to sign up for the resources except for the LinkedIn Learning.)
---
Brainfuse JobNow provides live interactive online help combined with online resources to guide you through the necessary tasks to get a job. Career assessments (eParachute) and resources are available. Live job coaching is available daily from 1:00 to 10:00 pm PST. Brainfuse JobNow is an all-in-one suite of services designed for a wide range of career needs: whether it's tackling a resume, writing a cover letter, developing additional skills, or adjusting to a new career.
(Log in with your Thousand Oaks Library card)
---
Brainfuse VetNow - Live Job Coaching, Resume Assistance, and more... Live VetNow Coaches are available every day of the week, including weekends, from 1:00 p.m. to 10:00 p.m.
Download User Guide
Watch Video Tutorial
This service is offered courtesy of the California State Library. (No Thousand Oaks Library card needed)

---
Data Axle Reference Solutions (formerly ReferenceUSA) - Identify potential employers, geographically and by business categories. Search the Businesses database by geography and type of business. Use the "Advanced Search."
To access the above resources from the Library's home page, click on the link to "Virtual Library" then click on "Research."
(Log in with your Thousand Oaks Library card and PIN)
---
Library Materials
Search the Library's catalog for material on job hunting.
Suggested search terms:
---
Networking to Get a Job

This short video shows how to network and explains why networking is so important to finding a job.
---
E-mail Services
You will need to establish an e-mail account to apply for jobs. Examples of e-mail services that are free and reliable:
---
Social Networks
---
Local Public Sector Jobs
---
Web Resources
(Not affiliated with the Library)
---
Avoiding Job Scams
Federal Trade Comission - How to tell legitimate employers from scammers.


---
Interview Question: "Why should we hire you?"
This video for students is by the Ohio State University Fisher College of Business, Career Management Office.
---
Other Job Resources for Californians
Sources: California State Library Career Pathways
Resources for Teens
This video by Career Girls gives strategies for finding a summer job. The advice is equally valid for men and women.
---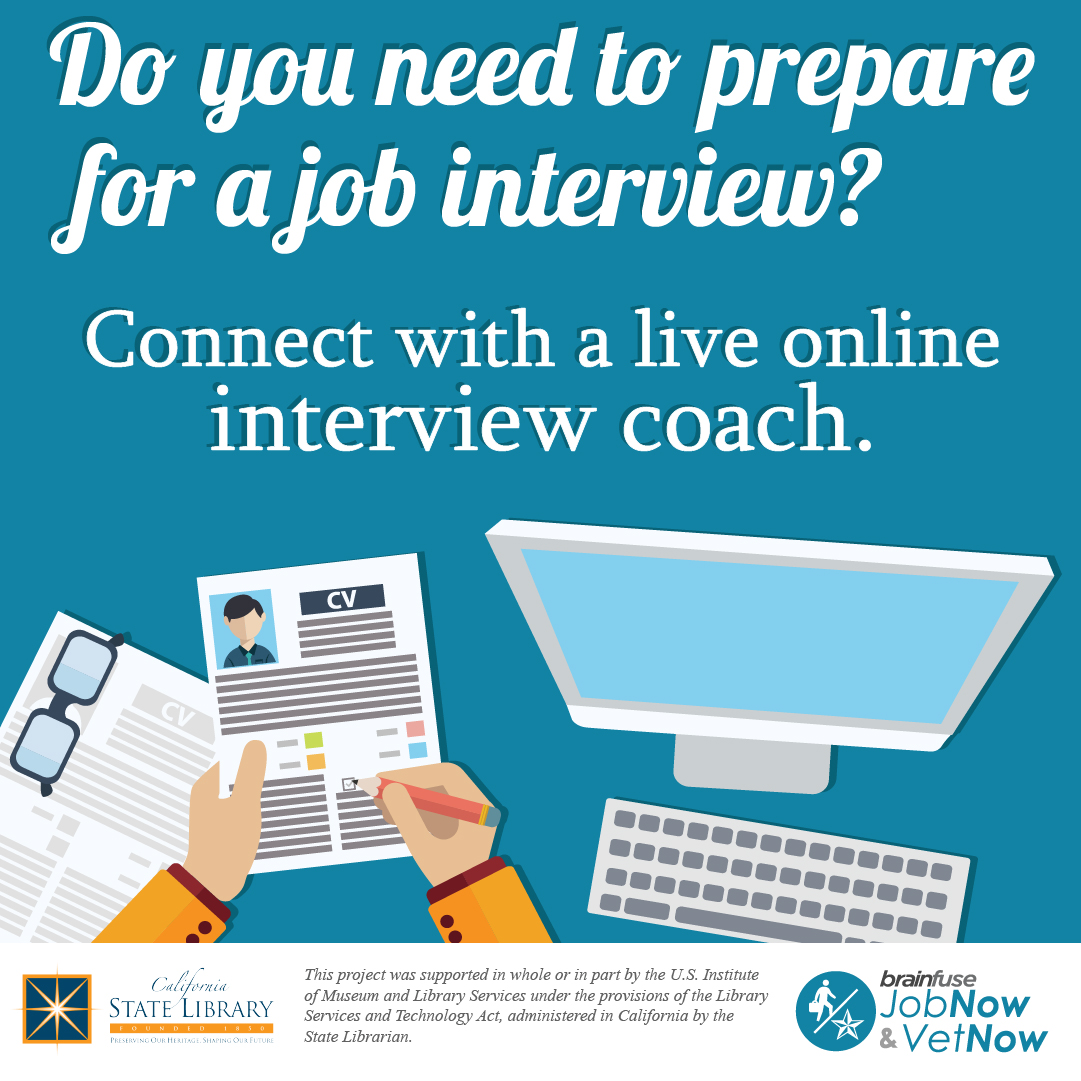 Electronic Resources (Library card is required to access the databases outside the library.)
LearningExpress Library - Get expert advice on creating strong resumes and cover letters, applications, interviewing, and more.

---
Web Resources for Teens
These resources are useful for teens in addition to the ones above.
Sitters.com - Listings for sitters and nannies.
Care.com - Provides listings for sitters and nannies, pet care, adult and senior care, and home care.
CoolWorks.com - Jobs in great places

Get That Gig - Why not do something cool?
SummerJobs.com - Summer job listings
Camp Staff - Summer camp jobs
This video by TheEmployable presents the right way to fill out employment applications.