See book recommendations from our Thousand Oaks Teen Advisory League. All books available from the Thousand Oaks Library Overdrive eBooks.
---
by Michelle Obama
Recommended For: For people 14 and up. I would recommend this book to anyone over the age of 14, as it deals a lot with politics which can be a dull subject for anyone younger. I would also recommend this to anyone even remotely interested in the back workings of our executive system or the Obama family (which is a very popular topic in today's political climate). I really enjoyed this book because I was just beginning to be more invested with racism and politics in America when I began reading it (a result of the upcoming election and BLM). However, it wasn't all about these heavy topics - it was the story of Michelle Obama and how she rose to the top throughout her crazy life. It has romance and adventure and aspects of life that everyone can relate to. I never thought I would feel so connected to the former first lady, and it empowered me, letting me see my own potential. I would especially recommend this book to anyone interested in learning more about why today's political/social climate is the way that it is. However, despite all this, I would still recommend Becoming as something to read for enjoyment. After all, it is just the story of her life, and I sometimes need to remind myself that she's not a character in a story.
Description: An intimate and uplifting memoir by the former First Lady chronicles the experiences that have shaped her remarkable life, from her childhood on the South Side of Chicago through her setbacks and achievements in the White House.
---
by R.J. Palacio
Recommended For: I recommend this book for anyone. Elementary and middle schoolers may enjoy this book the most. I recommend this book because it shows how a person's appearance doesn't matter as much as their personality and actions. It addresses bullying and kindness in a different way. I think it's worth reading because you can see how Augie feels in his perspective and relate with him a little.
Description: Ten-year-old Auggie Pullman, who was born with extreme facial abnormalities and was not expected to survive, goes from being home-schooled to entering fifth grade at a private middle school in Manhattan, which entails enduring the taunting and fear of his classmates as he struggles to be seen as just another student.
---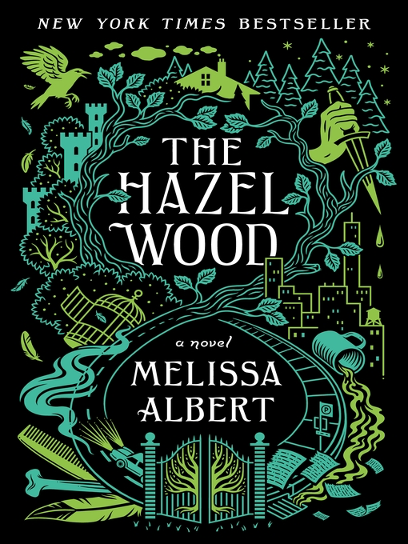 by Melissa Albert
Recommended For: Grades 7th+ fantasy and (dark) fairy tale lovers as well as people who enjoy adventure type books. The main character has so much life in her and the book has an excellent plot twist. The whole world Melissa Albert creates seems very vivid yet also quite spooky! Fairy Tale, Fantasy, Action.
Description: Sixteen-year-old Hazel, a stage IV thyroid cancer patient, has accepted her terminal diagnosis until a chance meeting with a boy at cancer support group forces her to reexamine her perspective on love, loss, and life.
---