See book recommendations from our Thousand Oaks Teen Advisory League. All books available from the Thousand Oaks Library Overdrive eBooks.
---
by Trent Lee Stewart
Recommended For: Middle School and older. Characters are likable and interesting.
Description: After passing a series of mind-bending tests, four children are selected for a secret mission that requires them to go undercover at the Learning Institute for the Very Enlightened, where the only rule is that there are no rules.
---
by Suzanne Collins
Recommended For: People who like mysteries and adventure. Interesting plot has mystery. Books so much better than movies.
Description: In a future North America, where the rulers of Panem maintain control through an annual televised survival competition pitting young people from each of the twelve districts against one another, sixteen-year-old Katniss' skills are put to the test when she voluntarily takes her younger sister's place.
---
by Erin Morgenstern
Recommended For: Older middle or high school. Mysterious. Love story. Magic.
Description: Waging a fierce competition for which they have trained since childhood, circus magicians Celia and Marco unexpectedly fall in love with each other and share a fantastical romance that manifests in fateful ways.
---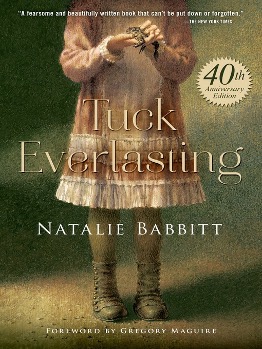 by Natalie Babbitt
Recommended For: Anyone
Description: The Tuck family is confronted with an agonizing situation when they discover that a ten-year-old girl and a malicious stranger now share their secret about a spring whose water prevents one from ever growing any older.
---
by Miguel de Cervantes
Recommended For: High School or older. People who like history and comedy. Funny and nonsensical.
Description: Brimming with romance and adventure, considered by many to be the greatest work in the Spanish literary canon. Both humane and humorous, the adventures of Don Quixote and Sancho Panza. Together the heroes bumble their way from one bizarre adventure to another.
---
Ranger's Apprentice Book 1
by John Flanagan
Recommended For: Middle Schoolers, maybe 8th grade and older. People who like action and rangers and fantasy.
Description: When fifteen-year-old Will is rejected by battleschool, he becomes the reluctant apprentice to the mysterious Ranger Halt, and winds up protecting the kingdom from danger.
---
by Lemony Snicket
Recommended For: Teens. A very idiosyncratic mystery book. Strong characters and fun witty plots.
Description: After the sudden death of their parents, the three Baudelaire children must depend on each other and their wits when it turns out that the distant relative who is appointed their guardian is determined to use any means necessary to get their fortune.
---
by Tahereh Mafi
Recommended For: High Schoolers or older. Anyone looking for a new kind of Love Story. Unique story about struggling after tragedy.
Description: A year after 9/11, Muslim teenager Shirin has completely withdrawn from social life, until she meets Ocean James in her biology class and is tempted to actually let her guard down.
---
by Louisa May Alcott
Recommended For: Middle School and older. Language can be tricky. Geared towards girls but everyone should read. Relatable coming of age story despite the period difference. Feminist.
Description: Chronicles the joys and sorrows of the four March sisters as they grow into young ladies in nineteenth-century New England.
---
by Brandon Mull
Recommended For: Everyone, but mainly Middle School. Fantasy.
Description: When Kendra and Seth go to stay at their grandparents' estate, they discover that it is a sanctuary for magical creatures and that a battle between good and evil is looming.
---
by James Patterson
Recommended For: Middle or High Schoolers. Great story, good characters and dynamic. Exciting Thriller.
Description: After the mutant Erasers abduct the youngest member of their group, the "birdkids," who are the result of genetic experimentation, take off in pursuit and find themselves struggling to understand their own origins and purpose.
---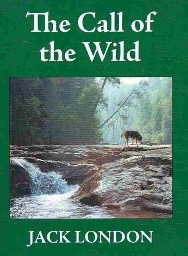 by Jack London
Recommended For: Teens. My favorite book. Classic adventure.
Description: The adventures of an unusual dog, part St. Bernard, part Scotch shepherd, that is forcibly taken to the Klondike gold fields where he eventually becomes the leader of a wolf pack. White Fang is the story of a wolf-dog who is befriended by a kind man who becomes his master.
---
by Brandon Mull
Recommended For: Middle School and Older
Description: When fifth-graders Nate, Summer, Trevor, and Pigeon meet the owner of the new candy store in town and are given a magical candy that endows them with super powers, they find that along with its benefits there are also dangerous consequences.
---
by Tahereh Mafi
Recommended For: PTeens and Fantasy Genre lovers. It has fairies, powers, romance, plot twists, you can't guess what will happen next. When you start getting comfy everything changes.
Description: Ostracized or incarcerated her whole life, seventeen-year-old Juliette is freed on the condition that she use her horrific abilities in support of The Reestablishment, a postapocalyptic dictatorship, but Adam, the only person ever to show her affection, offers hope of a better future.
---
by Andy Weir
Recommended For: Science Fiction readers who are into space travel and survival McGyver type things. It's very scientifically accurate. Really clever also.
Description: Mark finds himself stranded on Mars but he isn't ready to give up yet. Drawing on his ingenuity, his engineering skills--and a relentless, dogged refusal to quit--he steadfastly confronts one seemingly insurmountable obstacle after the next. Will his resourcefulness be enough to overcome the impossible odds against him?
---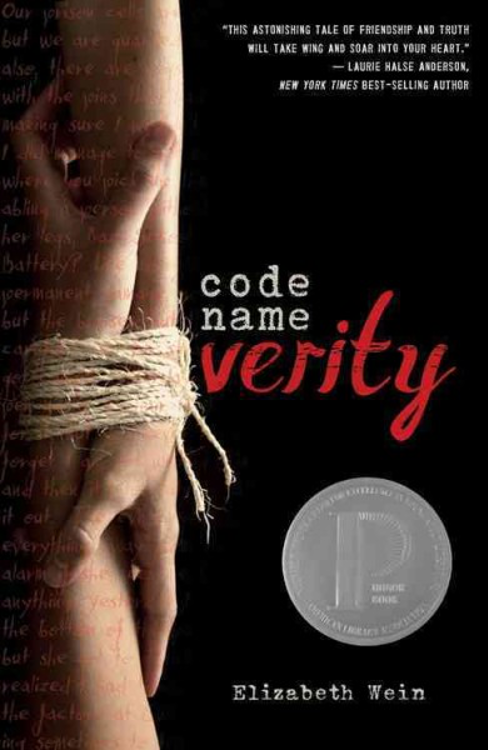 by Elizabeth Wein
Recommended For: High School and older.
Description: In 1943, a British fighter plane crashes in Nazi-occupied France and the survivor tells a tale of friendship, war, espionage, and great courage as she relates what she must to survive while keeping secret all that she can.
---
by Nicola Yoon
Recommended For: People who like romance and/or if they watched the movie (which was really popular). Mostly for High Schoolers.
Why: It's realistic, but in an unexpected way. It also consists of plot twists and a lot of different genres.
Description: My disease is as rare as it is famous. Basically, I'm allergic to the world. I don't leave my house, have not left my house in seventeen years. The only people I ever see are my mom and my nurse, Carla. But then one day, a moving truck arrives next door. I look out my window, and I see him. He's tall, lean and wearing all black -- black T-shirt, black jeans, black sneakers, and a black knit cap that covers his hair completely. He catches me looking and stares at me. I stare right back. His name is Olly. Maybe we can't predict the future, but we can predict some things. For example, I am certainly going to fall in love with Olly. It's almost certainly going to be a disaster.
---
by Marie Lu
Recommended For: Poetry Readers, verse readers, (somewhat) realistic fiction, YA
Why: Beautiful and thought provoking story in verse.
Description: There are three rules in the neighborhood: Don't cry ; Don't snitch; Get revenge. Will takes his dead brother Shawn's gun, and gets in the elevator on the 7th floor. As the elevator stops on each floor, someone connected to Shawn gets on. Someone already dead. Dead by teenage gun violence. And each has something to share with Will...
OverDrive eBook
OverDrive Audiobook
---
by Maureen Goo
Recommended For: People who like romantic books, but cheesy romantics.
Why: It was a really good appropriate romance book that will warm your heart.
Description: Clara Shin lives for pranks and disruption. When she takes one joke too far, her dad sentences her to a summer working on his food truck, the KoBra, alongside her uptight classmate Rose Carver. Not the carefree summer Clara had imagined. But maybe Rose isn't so bad. Maybe the boy named Hamlet (yes, Hamlet) crushing on her is pretty cute. Maybe Clara actually feels invested in her dad's business. What if taking this summer seriously means that Clara has to leave her old self behind?
---
by Brigid Kemmerer
Recommended For: For those who like Fairy Tale and Romance.
Why: New & Smart version of Beauty and the Beast
Description: Prince Rhen, the heir to Emberfall, was cursed to repeat the autumn of his eighteenth year; he could only be saved if a girl fell for him. But at the end of each autumn he turned into a vicious beast hell-bent on destruction... and destroyed his castle, his family, and every last shred of hope. Washington, D.C. native Harper Lacy's father is long gone, her mother is dying, and her brother constantly underestimates her because of her cerebral palsy. When she is sucked into Rhen's cursed world, Harper doesn't know where she is or what to believe. As Rhen regains hope, they learn it will take more than a broken curse to save Harper, Rhen, and his people from utter ruin
---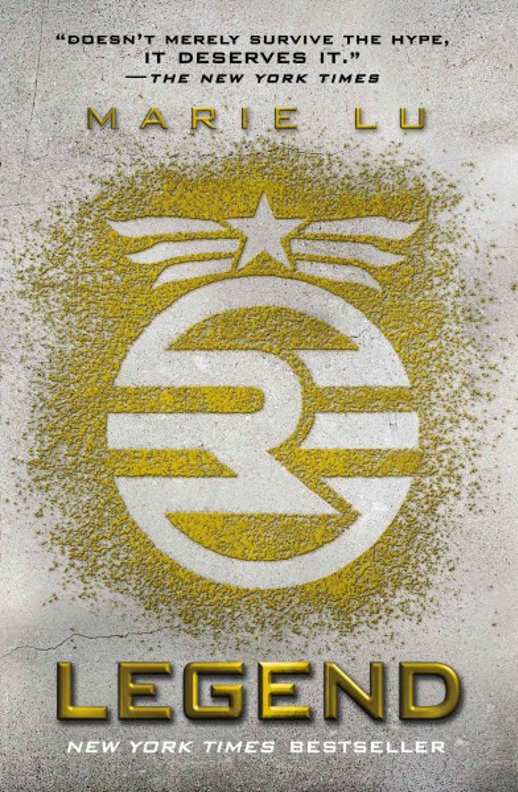 by Marie Lu
Recommended For: Middle School and older
Description: In a dark future, when North America has split into two warring nations, fifteen-year-olds Day, a famous criminal, and prodigy June, the brilliant soldier hired to capture him, discover that they have a common enemy.
---
by Marissa Meyer and the Lunar Chronicles Series
Recommended For: Action book lovers
Why: It's an action-packed series with great characters & twists & turns.
Description: As plague ravages the overcrowded Earth, observed by a ruthless lunar people, Cinder, a gifted mechanic and cyborg, becomes involved with handsome Prince Kai and must uncover secrets about her past in order to protect the world in this futuristic take on the Cinderella story.
OverDrive eBook
OverDrive eAudiobook
---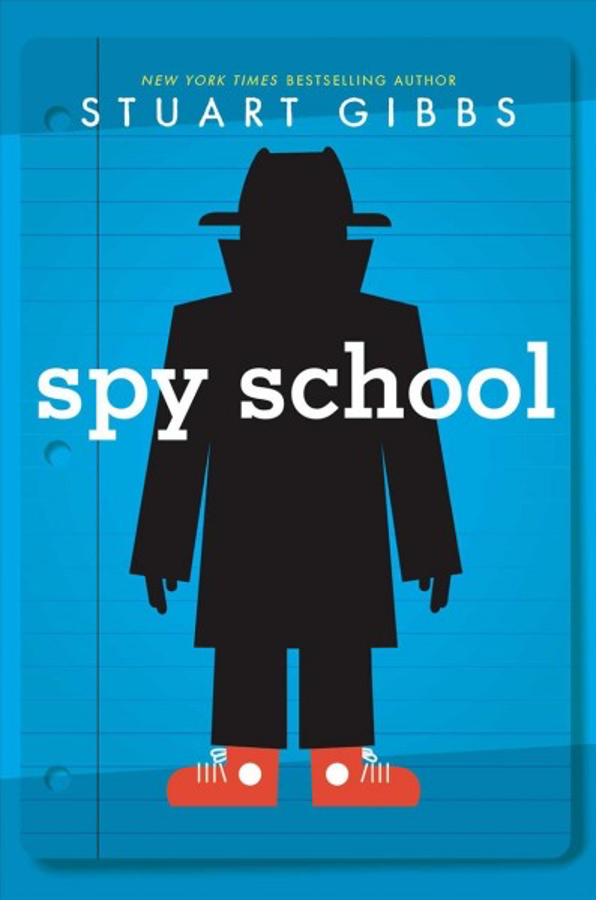 by Stuart Gibbs
Recommended For: Middle schoolers and older.
Why: Fantasy, people with powers, coming of age.
Description: Twelve-year-old Ben Ripley leaves his public middle school to attend the CIA's highly secretive Espionage Academy, which everyone is told is an elite science school.
OverDrive eBook
OverDrive eAudiobook


---
by Grace Lin
Recommended For: High Schoolers, people who like unique love stories
Why: Chinese folklore inspired. I read it when I was younger and really enjoyed.
Description: Minli, an adventurous girl from a poor village, buys a magical goldfish, and then joins a dragon who cannot fly on a quest to find the Old Man of the Moon in hopes of bringing life to Fruitless Mountain and freshness to Jade River.
OverDrive eBook
OverDrive eAudiobook
---
by Courtney Summers
Recommended For: People looking for thrillers and realistic fiction. High school and older.
Why: Thriller type book. Very insightful and serious.
Description: Sadie's been raising her sister Mattie in an isolated Colorado town, trying her best to provide a normal life and keep their heads above water. When Mattie is found dead, and the police investigation is botched, Sadie is determined to bring her sister's killer to justice. She hits the road following a few meager clues. When West McCray, a radio personality working on a segment about small, forgotten towns in America, hears Sadie's story, he becomes obsessed with finding the missing girl. He starts his own podcast as he tracks Sadie's journey, trying to figure out what happened, hoping to find her before it's too late
---
by Shannon Messenger
Recommended For:
Middle school and people who like Avatar the Last Airbender.
Why: Fantasy, people with powers, coming of age.
Description: At age twelve, Sophie learns that the remarkable abilities that have always caused her to stand out identify her as an elf, and after being brought to Eternalia to hone her skills, discovers that she has secrets buried in her memory for which some would kill.
---
by Ellen Raskin
Recommended For: 6th grade and up. People who like puzzles
Why: It's like a puzzle in a book
Description: The mysterious death of an eccentric millionaire brings together an unlikely assortment of heirs who must uncover the circumstances of his death before they can claim their inheritance.
---
by Ally Condie
Recommended For: Teens
Why: Science Fiction Young Adult. I thought it was really interesting.
Description: All her life, Cassia has never had a choice. The Society dictates everything: when and how to play, where to work, where to live, what to eat and wear, when to die, and most importantly to Cassia as she turns 17, whom to marry. When she is Matched with her best friend Xander, things couldn't be more perfect. But why did her neighbor Ky's face show up on her match disk as well?
---
by Neal Shusterman
Recommended For: Teens & Adults
Why: Thought provoking
Description: In a world where disease has been eliminated, the only way to die is to be randomly killed ('gleaned') by professional reapers ('scythes'). Two teens must compete with each other to become a scythe--a position neither of them wants. The one who becomes a scythe must kill the one who doesn't.
---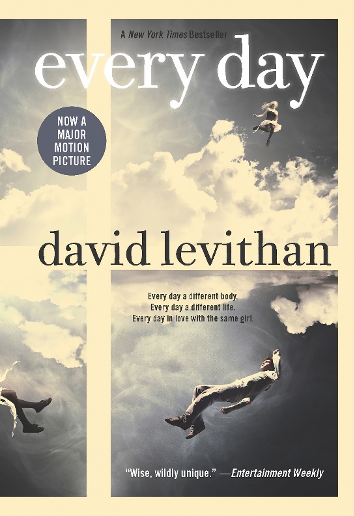 by David Levithan
Recommended For: High Schoolers, people who like unique love stories
Why: Cool love story of someone who switches bodies every day.
Description: Every morning A wakes in a different person's body, in a different person's life, learning over the years to never get too attached, until he wakes up in the body of Justin and falls in love with Justin's girlfriend, Rhiannon.
---